Custom Guitars & Basses
Forrester Kustoms is now offering custom-built guitars and basses!  Take a minute to view photos of the latest custom guitar, "The Brave", in the Photo Journal section.
Please feel free to call, and let's discuss YOUR new Forrester Kustoms instrument!
Basic Services
While guitar repair is my specialty, Forrester Kustoms services electric AND acoustic stringed instruments of just about EVERY kind.  I've repaired, serviced, and maintained everything from the standard guitar and bass, to mandolin, mandocello, tenor and 5-string banjo, violin, bouzouki, upright bass, dobro......my customers are a diverse and multi-talented group!  Feel free to contact me to discuss your specific needs.
    ......Mike Forrester
The Supertune services cover electric and acoustic guitar and bass, as well as many other instruments.
Supertune Plus - $90:
  This is not your ordinary Supertune.  Once you've opted for this service, you'll wonder why you waited so long. My Supertune Plus is a very thorough service, and includes the following: Complete clean and detail of the entire instrument, systems check of electronics and mechanical parts (including the tremolo system), thorough cleaning and oiling of the fingerboard (ebony, rosewood, etc.), polishing of the frets, de-ox and lubrication of electrical problems otentiometers, switches and output jack, tightening of all fasteners, adjustment of tuning machines (as required), dressing of the string nut slots, installation of new strings of your choice (extra charge for strings, or provide your own), truss rod/neck relief adjustment, intonation and action adjustment, and pickup pole-piece adjustment, and pickup-to-pickup height/output balance. This really is a thorough service.  Additional charge for strings, or you can supply.
Supertune Ultra - $190:
  This service is the most comprehensive Supertune I offer. The Supertune Ultra includes everything listed under the Supertune Plus, but also includes a Fret Dress - leveling, recrowning and mirror polishing of frets. This is the perfect service for an instrument that has seen years of use, and is in desperate need of some TLC. Choose this service if your frets are worn flat on top or have heavy divots worn in them, but are still tall enough to level and recrown. I can help you to determine this.  Cost of strings is extra.
Note - There WILL be an additional charge for filthy guitars!  My Supertune Plus and Supertune Ultra include a thorough cleaning, polishing, and general detail of the instrument......BUT......instruments that have been 'ridden hard and put away wet' require additional time to get clean.  Often, removing built-up gunk and oxidation, and bringing a neglected finish back to factory luster, borders on 'restoration'.  I have honed my skills on this type of deep cleaning, and it's VERY labor intensive.  In addition, fasteners and adjustment screws that are rusted beyond function may require replacement if they can not be restored.  There will be an additional charge for replacement screws or fasteners, if required.
Refret bolt-on neck - $275 and up
Refret Set-Neck - $325 and up
  All refrets include your choice of fret wire. This is your chance to go up in fret size for smoother string bending, or go down in size to restore a vintage instrument.
  In addition to traditional nickel/silver fret wire, many sizes are available in stainless (upcharge for stainless steel refret). Some customers opt to flatten the fretboard radius at this time as well. For example, a 10" or 12" radius provides easier and cleaner string bending over a vintage-spec 7.25" radius. Please note that a refret will often require the installation of a new string nut due to the taller height of the new frets. Call or e-mail to discuss your needs.
Partial Refret - $25 per fret:
  Additional fret dressing may be necessary, and will cost extra. Many of my customers will combine a partial refret with my Super Tune Ultra to get the best bang for their buck.
Custom Cut String Nut - $75, price includes A-grade bone nut blank (other materials available at additional cost):
  Includes finish touch-up where required. Your choice of nut blank material options - bone, Corian, graphite, Tusq, etc. My goal is to make the replacement nut appear 'factory'. This sometimes requires ambered lacquer touch-up, and/or a slight relic treatment in order to blend in to the surrounding finish.
Buzz Feiten Shelf Nut Retrofit, includes proprietary bone nut blank - $139:
  For electric guitars and basses.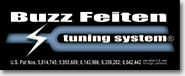 I am an authorized Buzz Feiten Level 1 Retrofitter. If you want to hear your guitar TRULY in tune, contact me to discuss the Buzz Feiten 'Shelf Nut' tuning system. NO permanent modification is made to the instrument, thus the 'Retrofit' designation. Go to www.buzzfeiten.com to check it out.
Electrical Component Installation - $35 and up, per component.  Additional charge for the components themselves, or you can supply.
Complete Harness Wiring - $125 and up.  Additional charge for the components themselves, or you can supply.
Structural and Finish Repairs - Cost varies.  Please contact me to discuss.
Headstock repairs
Body and neck breaks or cracks
Acoustic instrument bracing cracks
Bolt-on Neck Refinish - $250 and up, depending on neck and fretboard material, binding, inlay, decal, etc.
Body Refinish - $450 and up, depending on type of wood, color(s), binding, etc.
Full Instrument Refinish - $750 and up
Minimum Bench Charge -$35
  Many other services available, including full instrument restoration. Call or e-mail to discuss your needs.
References are available upon request.