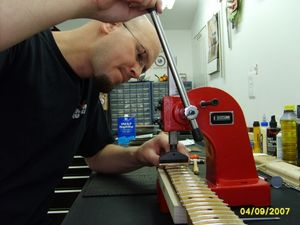 Mike Forrester began honing his luthier skills in 1980 working on hundreds of instruments for close friends and family members. By the early 90's he had developed a small but dedicated group of select customers.
Having developed a passion for everything-guitar, going into the full-time repair business would be a completely natural move. That opportunity presented itself when Mike accepted a seniority buyout from General Motors Corporation following the closing of the Baltimore Maryland assembly plant in 2005.
Forrester Kustoms, LLC. Stringed Instrument Repair & Service opened for business in June of 2006. Forrester Kustoms currently repairs and maintains stringed instruments for many of Baltimore's performing musicians and guitar collectors, in addition to serving Baltimore area music stores.
Internet exposure has also helped to bring customers from all over the United States, and even as far as Germany.
Mike's attention to detail finds him continuously striving to improve his guitar repair and vintage restoration skills, as well as full-custom luthiery.
Relative experience includes custom motorcycle painting, technical illustration, patent drafting, and woodworking. Mike is looking forward to growth and the future of the business. He remains committed to serving the working musician, as well as the collector, providing them and their instruments the personal attention they so truly deserve.